What is it?
It's a clear screen or panel for use over a counter, open at the bottom, that allows people to transact business while providing a clear, visible barrier between individuals. In effect, it's large clear sneeze guard or cough guard!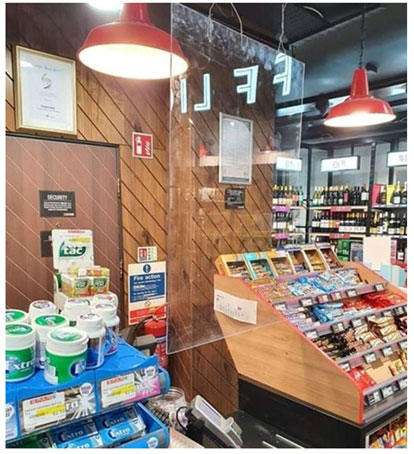 (Picture reproduced with permission)
How does it work?
Due to the Corona Virus, people feel reassured that there's a visible barrier between individuals. It's simply a screen or guard, individuals must continue to carry out existing social practices as instructed, namely keeping their distance, not lingering unnecessarily, minimizing contact and interaction, not shaking hands and observing proper hand hygiene.

What's it made of?
3mm Polycarbonate is the same thickness as a standard pane of glass. It's the ideal material because it is shatter proof, fire proof and more robust. It has great clarity and looks exactly like a pane of glass. You could hit this with a hammer and it won't crack or break.

Do we have any in stock?
Sure thing but they're selling fast so get yours today!!

Sheet sizes:
3mm thickness - 2500mm x 1250mm (8ft x 4ft)
3mm thickness - 3050mm x 2050mm (10ft x 6ft)
Cutting is Free. We will cut to size at no extra cost. Delivery is available Nationwide. Delivery is subject to additional charge.
Read more about or Protective Screens
CALL US on Ph: +353 1 409 8000 and mention this online article.